Sciatic nerve pain is more common than you might imagine. As one of those dreaded ailments that you can't actually see, it's hard to explain to a non-sufferer just how excruciating this kind of nerve pain can be.
Luckily most sciatica flare-ups do pass on their own but when you are in the midst of an attack, there are some gentle yoga poses for sciatic never pain that can make all the difference. In fact, I have been able to sometimes achieve instant relief using the poses below so they are worth a try.
If you are pregnant and suffering with sciatica, this link has some yoga poses for sciatic nerve pain that are safe to do during pregnancy.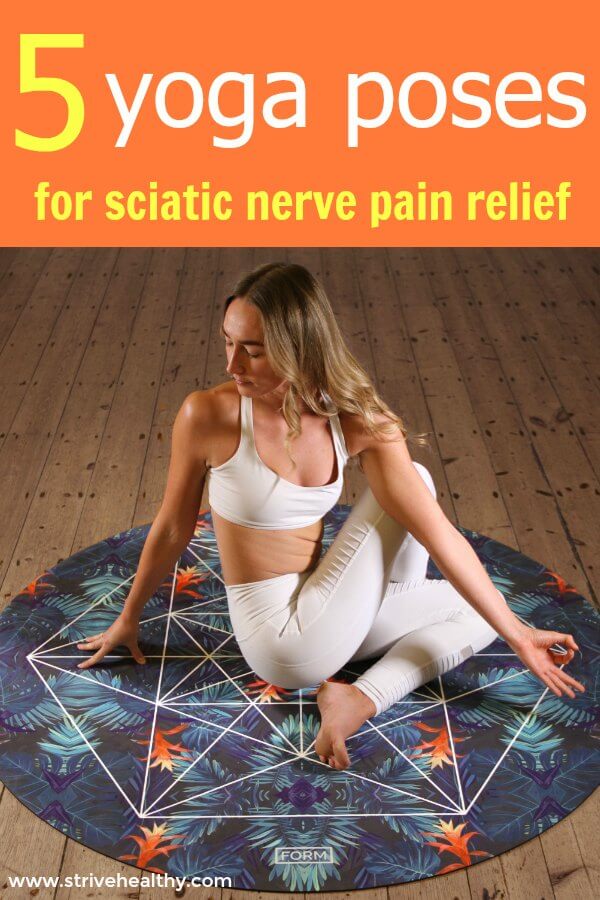 This post contains affiliate links. I only promote products I recommend and trust. Please read my Disclosure for more information. 
What Is Sciatica?
If you are reading this I am going to assume you know all too well how sciatic nerve pain feels but what exactly is sciatica and how do you get it?
The dictionary definition of sciatica is "pain affecting the back, hip, and outer side of the leg, caused by compression of a spinal nerve root in the lower back, often owing to degeneration of an intervertebral disk".
If you are currently suffering with sciatic nerve pain then you know it is like no other, it shoots from your bum to your ankle and can really stop you in your tracks. It normally only affects one leg.
RELATED POSTS
8 ways to naturally ease sciatica in pregnancy
5 Sciatica Pregnancy Stretches That Work
What are the causes of sciatica?
The sciatic nerve is the longest nerve in the body and as such, it causes immense pain when things go wrong.
Common causes of sciatic nerve pain include:
A herniated disc that is pushing on the nerve
Bone spurs
Spinal stenosis
Pregnancy
Pressure on the spine from being overweight
Work-related stress on the back such as moving heavy objects routinely
Trapped piriformis muscle
Is sitting bad for sciatica?
If you are suffering from sciatic nerve pain right now, you may find sitting on certain chairs very painful. Sitting for long periods of time is actually one of the primary causes of sciatica.
Many people (myself included) experience their first bout of pain after a long flight where the nerves are compressed into a tight position for hours on end.
If you have a job where you sit for most of the day, try to take breaks every 20-30 minutes to stretch your legs and hips and aim to change position frequently.
If you are able to perform the yoga poses for sciatic nerve pain below during your work day, they will help immensely. Another option is to use an exercise ball instead of a chair as much as possible. It is also a great workout for your core.
Can yoga relieve sciatica?
When your sciatic nerve starts playing up, you might feel an urge to stretch out your hamstrings and hips. This is because your tight hamstrings can worsen the symptoms of your nerve pain.
There are certain yoga exercises for sciatica leg pain that can safely stretch out your glutes and hips and may even provide instant relief.
Can stretching make sciatica worse?
As always with any kind of exercise, consult with your doctor before trying something new and stop if your pain worsens or you don't feel well.
While these yoga stretches might not feel comfortable as they stretch your piriformis out, they should not hurt. Stretching properly and gently should not make your sciatica worse. Do not be tempted to push harder to release the tension, as you might overstretch your muscles.
How often should I perform these yoga stretches?
A few times a day will be most beneficial, especially if you are sitting down a lot and need to stretch. Going through the series before bed can also help you get more comfortable. Hold each stretch for 5-10 seconds then repeat.
5 Yoga Poses for Sciatic Nerve Pain Relief
Extended Side Twist (Utthita Parsvakonasana)
Step into a lunge position and bend as deep as you can. Place your hands together and rest your elbow on your front knee. Gradually twist your body so you are looking over your shoulder.
2. Seated Twist (Gomukasana yoga pose)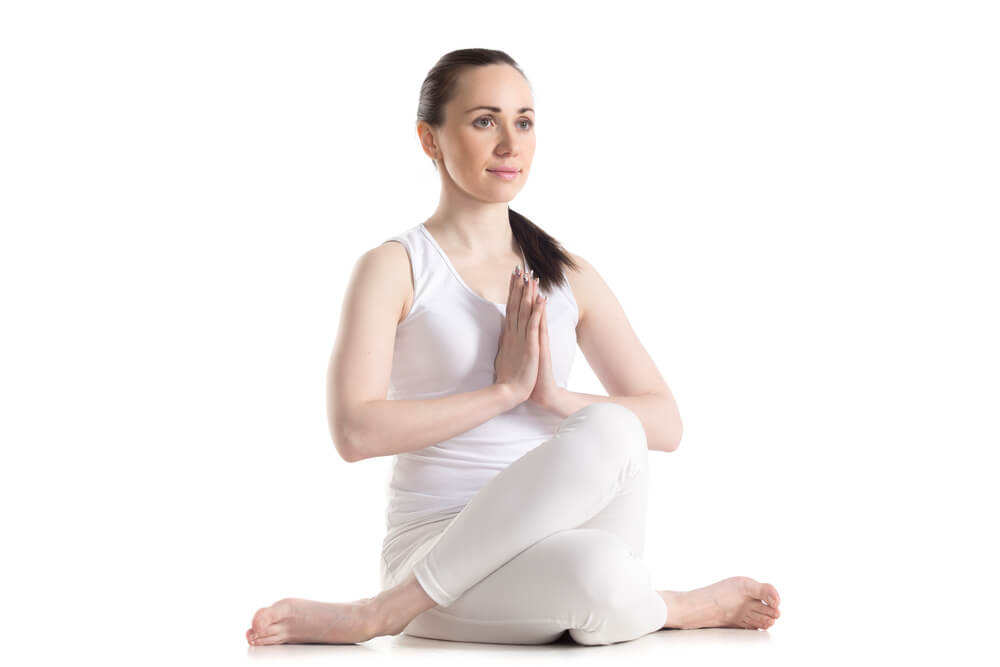 Start with your legs straight in front of you then bend one leg over the other. Pull the second leg bent towards your body. This is a great hip opener pose.
3. Ardha Matsyendrasana
This pose starts of the same as the seated twist but you keep one leg straight out in front of you. Grab under the knee of the bent leg and twist your torso to look over your shoulder.
4. Bound Ankle Pose(Butterfly)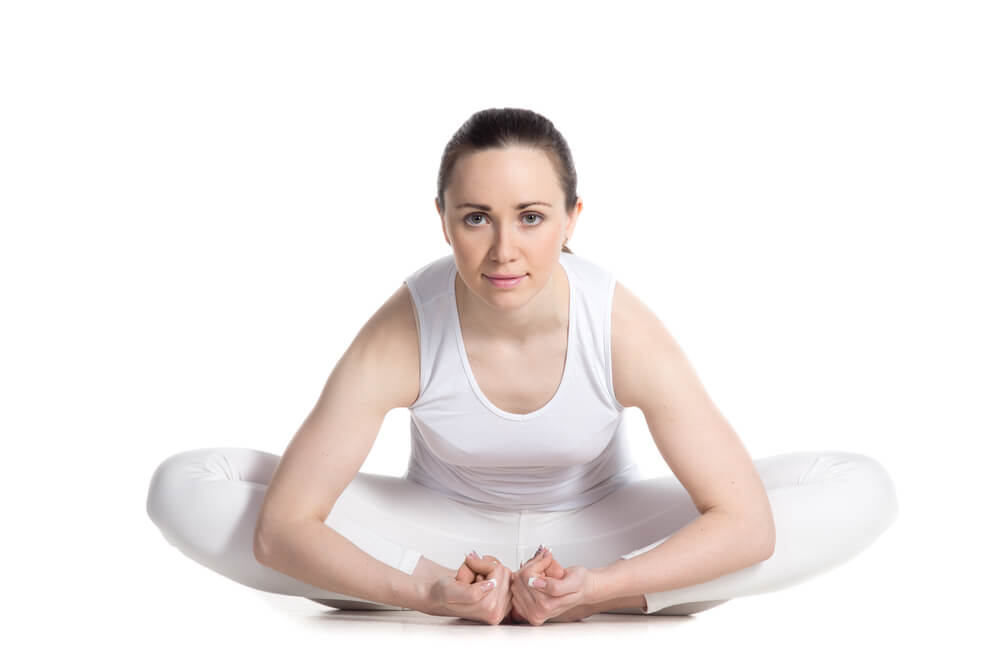 Sit up straight with the soles of your feet touching each other. Hold onto your ankles and bend forward.
5. Swan or Pigeon Pose
This is an advanced move that is fantastic for opening up the hips. Start in downward dog or table top pose (all-fours). "swing" one leg through your arms and bend it in front of your body with the foot pointed to the other side of your body.
The back leg should then lay on the ground with the toe pointed. You can rest your head on a bolster or come down to your elbows instead of staying on your fingertips.
Are there any sciatica yoga poses to avoid?
Although most yoga poses can help ease sciatica pain,  and there are no specific yoga poses to avoid, you should not do any exercise that could put pressure on your lower back such as squats, hamstring curls while laying on your tummy and high impact sports such as running on pavement.
Swimming can be beneficial as can gentle walking with comfortable shoes.
Related Posts
5 Sciatica Pregnancy Stretches That Work
8 ways to naturally ease sciatica in pregnancy
10 Natural Health Gift ideas Your Friends Will Love