If you've never heard of all the benefits of maqui berries (pronounced mah-kee) that's probably because it's a somewhat rare fruit from south America.
For hundreds of years, the Mapuche people of Chile have used the berry for its amazing effects. Now the rest of us are catching on.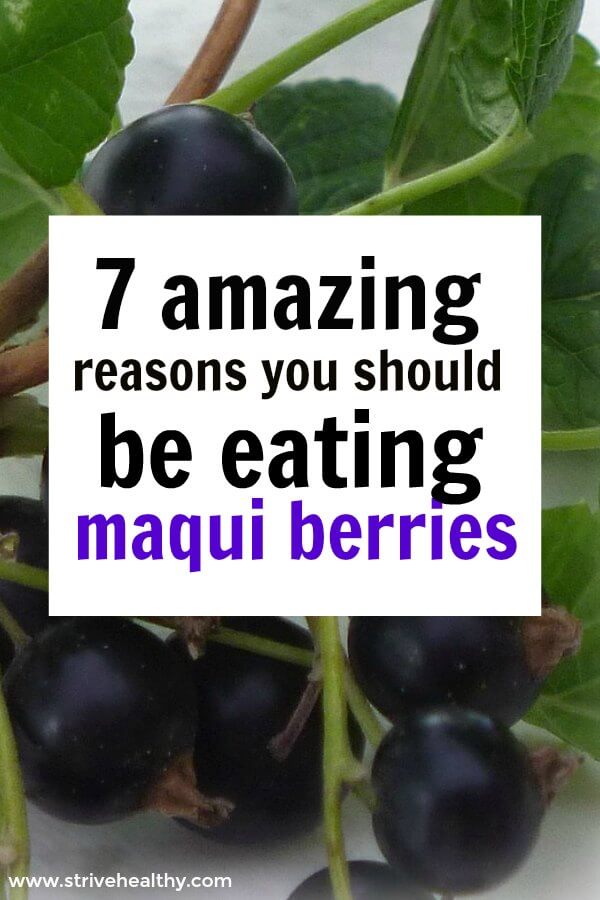 This post contains affiliate links. I only promote products I recommend and trust. Please read my Disclosure for more information. 
What are Maqui Berries?
Maqui berries look a lot like blackcurrants that you can grow in your backyard at home. In fact, in their native Chile, they are found all over the countryside growing in the wild.
What do maqui berries taste like?
Maqui berries taste sweet with a slightly tart kick. They are similar to blackcurrants in that respect. It also makes them a great fruit to combine with other, sweeter, fruits in a smoothie or baking.
5 Fantastic Health Benefits of  Maqui Berries
1.Blood Sugar Control
Maqui berries may be a natural way to stabilize blood sugar in people with diabetes. The berries balance glucose levels in the blood. For people who suffer from diabetes, controlling the blood sugar is a serious and important issue. 
 These major and sudden changes can contribute heavily to damage and stress on various organs of the body. These sudden changes can also affect the brain, and cause different types of malfunctions that can cause coma, or even death. Maqui berries help the body to stabilize these changes and make sure that they are more gradual and controlled.
2. Fight Inflammation
Swelling or inflammation of the organs, muscles, or joints can be a major issue for many people. Many illnesses stem from inflammation while other painful conditions such as sciatica are exacerbated by inflammation. 
Maqui berry is a very powerful antioxidant. In the past, indigenous people used it to reduce swelling and soothe conditions like arthritis effects and symptoms related to inflammation. 
3. Lower Cholesterol
Cholesterol is really a more specific term for the fat that floats freely in the blood stream. This cholesterol is made up of whatever kind of fats that you've been ingesting. When there is a heavy concentration of bad fats in the bloodstream, this can cause blockages that leads to serious events like strokes of heart attacks.
Maqui berry and other berries like it have the ability to attract and carry these fats away to disposal sites in the body through the lymph system.
4. Anti-aging
The maqui berry is extremely high in antioxidants called anthocyanins. Antioxidants can help you to stay young, protect you from cancer, and can relieve certain types of stresses on the body, which allows it to heal.
It even can protect you on a cellular level, because it protects the body from damage to DNA, which is essential because your body needs to be able to read correct DNA information to know how to build your newly created cells properly. 
5. Boost Metabolism
Maqui berries, along with their sister berry, blackcurrants, may help to boost metabolism and encourage weight loss. This is  thanks to the blood sugar balancing properties mentioned above.
7. Immune Support
Regular consumption of maqui berries may help ward off the common cold and flu viruses as well as boosting your immune system in general.
How to consume maqui berries
The maqui berry is one of the newest in the recently discovered south American fruits and now rivals acai as one of the most in-demand superfruits.
As the demand for maqui grows, it is becoming more available in western stores in various forms. While you can't find it easily in bulk store such as Costco or Walmart, it is available online at Amazon and other health food retailers. 
Capsules are an easy way to take maqui berries on a regular basis. They are easily available online at Amazon and other health food stores.
You can use maqui berry powder in smoothies and mix it with milk.
Juice extracts typically have a much longer shelf life and retain potency better than powders and capsules. 
They require smaller dosages and can bring massive amounts of health benefits to a variety of foods in many different ways, and all you need to do is open the container and pour it into whatever you are planning to ingest that day. 
The one downside to maqui extract is that it is extremely expensive as it is so concentrated.
Are maqui berries better than acai berries?
Nutrition Content
In terms of nutrition, the acai berry and maqui are in the same family and therefore share many of the nutritional aspects of each other, yet maqui does have a few minerals in greater supply such as iron, potassium, and calcium, making it great for the repair of many of the major systems of the body. 
Both fruits contain large portions of C and A, but acai has A higher amount of vitamin E, which could be considered to be one of the primary building blocks needed for skin vitality and elasticity of various tissues.
Antioxidants
Both Acai and maqui fruit are rich in antioxidants which are great for fighting the different types of oxidative stress. This could even help to slow the effects of aging in some ways.
Accessibility
One of the main reasons for the outrageous success of acai early on, was its accessibility. It is easy to find acai at your local smoothie bar, supermarket or health food store. 
Maqui berries are still not mainstream and are a bit harder to find in your local store but that may change!
What are the possible side effects of maqui berries?
Not many studies exist on this relatively new food to the western world so although there are no reported side effects, that doesn't mean there are none at all.
While most of us can enjoy the benefits of maqui berries, if you are pregnant or breastfeeding, proceed with caution.
What to read next
10 Natural Health Gifts Your Friends Will Love
5 Sciatica Pregnancy Stretches That Work
8 ways to naturally ease sciatica in pregnancy
5 Yoga poses for sciatic nerve pain