Vinegar has long been used in alternative medicine and natural remedies. Of course it is also found in any kitchen and used in a variety of different foods and drinks.
Vinegar adds tang to your salad and preserves your favourite pickled vegetables.
The most beneficial of all the vinegars out there is raw apple cider vinegar. But what health benefits does apple cider vinegar have and why should you use it?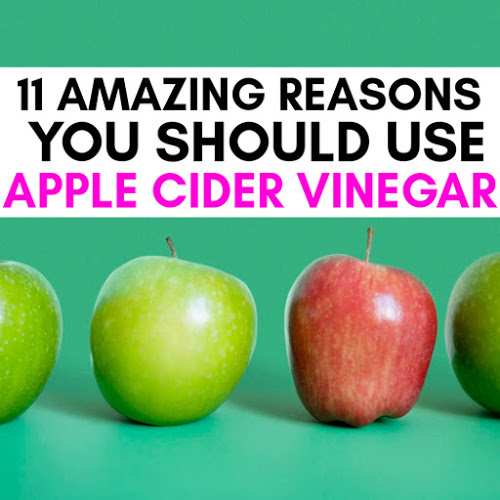 This post contains affiliate links. Please read my Disclosure for more information. 
What Is Apple Cider Vinegar?
Apple cider vinegar has been used for centuries to in cooking and various other home purposes. As the name suggests. it is a vinegar made from apple cider.
Apple Cider Vinegar (ACV) is a pale amber color, and it tastes like a strong vinegar with just a hint of apple.
In grocery stores today you can get filtered, pasteurized apple cider vinegar, as well as raw, organic vinegar that contains mother of vinegar and helpful probiotics.
Mother of vinegar is a living culture of bacteria and cellulose. You will notice it as a spider web like substance floating in raw apple cider vinegar.
While it may not look very appetizing, it's this floating "stuff" that makes ACV so beneficial for your health, along with the added minerals and of course the acid in the vinegar.
If you are going to start an ACV regime, make sure to get a quality vinegar that contains "the mother".
The Health Benefits Of Apple Cider Vinegar
Disinfectant
When your throat starts to feel sore, try this old folk remedy. Mix ACV and warm water in equal parts and gargle with it frequently throughout the day. It will help to kill the bacteria in your throat and get you on the path to feeling better.
Probiotic 
Raw apple cider vinegar contains a web-like substance called mother of vinegar. "The Mother" is a living culture of probiotic bacteria and cellulose.
It's these bacteria or active cultures that are beneficial to your gut health. They introduces and promotes the growth of good gut bacteria while preventing the explosive growth of "bad" bacteria that mainly feed on sugar and starches.
Help Digestion 
The acid and beneficial bacteria can both help with indigestion. If you know you'll eat a big or heavy meal, drink a glass of warm water with 1 teaspoon of honey and 1 teaspoon of apple cider vinegar beforehand.
This will also work to soothe indigestion.
Apple cider is also great for preventing heartburn and is a great alternative to commercially bought antacids.
Lower Your Blood Sugar
Drinking a mixture of water and apple cider vinegar (preferably the raw kind with the mother of vinegar), may be beneficial when it comes to blood sugar control.
This is great news for people with type II diabetes and in the prevention of it.
Studies on AVC and blood sugar have been very small so far and widespread research is lacking at the moment.
In the studies that have been done ACV has been shown to reduce insulin resistance, fasting blood sugar, and it keeps your blood sugar from spiking as much when you eat sugary or starchy foods.
Weight Loss Aid
Small studies have shown that apple cider vinegar might serve as an appetite suppressant and weight loss tool.
The acetic acid in ACV is thought to be an appetite suppressant. This combined with the beneficial effects it has on blood sugar levels makes it a good weight loss aid.
Drink a glass of water with ACV before each meal for best results. The water will help even more with making you feel full sooner.
Restore Body PH Levels
Add 1-2 cups of apple cider vinegar to your bath and you will prevent fungal infections and naturally restore your body's PH levels. A warm vinegar bath with ACV can also soothe skin irritations such as eczema.
Hair Clarifying Rinse
Rinsing with a diluted mix of ACV and water will give you a sparkling scalp and shiny hair. It's great for getting rid of product build-up.
Hemorrhoid Relief
If you suffer from  hemorrhoids  postpartum, add a cup of apple cider vinegar to a postpartum sitz bath and you will get instant relief!
Deodorant
The PH balancing properties of ACV make it work as a great odour-buster.
Fill a spray bottle of diluted apple cider vinegar and you have a natural deodorant. You may need to fiddle with the ACV concentration to find what works for your body.
Facial Skin Toner
Make a mixture of one part ACV to two parts water and gently pat onto your face. Apple cider vinegar is known to be an acne fighter and you can even dab some on a stubborn pimple and let it work its magic overnight.
Tooth Whitener
Mix baking soda and a teaspoon of ACV to make a tooth whitening paste.
How To Use Apple Cider Vinegar
ACV can be used like any other vinegar.
You can mix up a quick salad dressing by combining the vinegar with oil, a little mustard, salt, pepper, and your favorite fresh or dried herbs.
Use it in any recipe that calls for vinegar.
Incorporating raw vinegar, particularly in salads, other dishes, and things like green smoothies that aren't cooked is a great way to add more of this beneficial vinegar into your diet.
You can also drink it as a health elixir.
If you want to keep it simple, pour a little shot of it, drink it and wash it down with a bit of water.
Some people find it easier to take a shot of ACV daily by diluting it half and half with water.
Last but not least, you can make switchel, an old-fashioned drink similar to lemonade.
How To Make Switchel
Switchel is also called Haymaker's punch and it is a healthy, refreshing drink  for anytime of day. It makes a great summer time drink.
Fill a glass with ice, add a shot of apple cider vinegar and fill with water.
Add one tablespoon of honey or stevia.
Optional – add ginger to the drink for an extra health kick.
Add lemon to taste.
What To Look For in A Quality Apple Cider Vinegar
Traditionally grown apples make better cider
Organic is nice to have but not a must
Look for a cloudy cider which means it contains the mother. 
Top Apple Cider Vinegar Picks From Amazon
This is a top choice. It's budget friendly and organic.
This ACV with mother gets great reviews on Amazon and is budget friendly.
Can I Make My Own Apple Cider Vinegar?
If you are apple picking or making apple pies, you can try your hand at making your own apple cider vinegar using the core and peel that you would normally discard! Less waste and your own homemade apple cider vinegar for pennies!
Making your own apple cider vinegar is not too difficult but it does require you to watch out for mold during the process.  If you would like to make your own apple cider vinegar, I like this recipe.
More Healthy Living Tips
Natural Hangover Remedies That Actually Work
Yoga For Backache: 8 Poses To Ease The Pain
The Ultimate List Of Sea Vegetables & Their Health Benefits
Like This Post? Pin it!